Our Office
No 60 , No 5 road , Bình Thới Flat, Wards 8, Dictrict 11, HCMC , VietNam
Factory
Long Duc 3 Town, Tam Phuoc Ward, Bien Hoa City, Dong Nai Province, Vietnam
Dieu Thuong Joint Stock Company
DETOCO is a factory invested by Vietnam and Taiwan, located in Dong Nai province in the south of Vietnam, has been serving importers and distributors worldwide with multi-product products. forms from LDPE, LLDPE HDPE, CPE and EVA, and purchased from non-woven PP, polyester, TPU and PVC fabrics.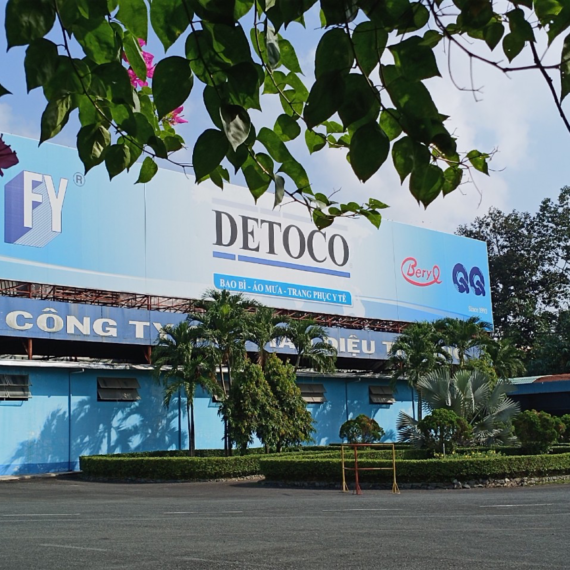 With over 25 years of persistent operation, DETOCO, along with its continuous improvements, has become a reliable partner not only for customers in particular but also for employees and longtime supply partners. Keeping up the strides, DETOCO constantly strives to fulfill all its goals and missions, with the Corporate Social Responsibility (CSR) criterion to achieve success in Business in tandem with promotion creates a positive impact on society.
Annual Revenue: 20 million USD

Workforce: total of 1,000+ workers throughout Vietnam

Total landscape: 60,000m2

Total Building area: 30,000m2

Ownership of Buildings: 100% Ownership

Ownership of Land: 100% Ownership
Main Products, and capacities
LDPE Ziplock bags
230 tons / month
CPE / PE gloves
100,000,000 pcs / month
Cotton / Polyester / PPnw Briefs
PEVA / CPE / PE Raincoats
CPE / PE Dust Covers
PEVA / PPnw Zipper bags (Pillow Bags)
PEVA / PPnw Suit Covers
PEVA Body Bags (Corpse Bags)
Capacities are by production plan arrangements, workers are able to produce different products according to production plans.
Number of Machines
Heavy Machine
Light Machine
Ziplock bag blown extruders
45
Heat welding machine
800+
Ziplock bag cutting machine
48
High frequency heat welding machine
7
Printing machine (up to 6 colors)
7
Sewing machine
150
Material recycle machine
5
Button machine
7
Cast film extruders
8
Glove cutting machine
44
Flat bag cutting machine
6